"Yakiniku Densetsu Baribari" A Yakiniku restaurant where you can eat "A4 rank or above" Japanese Wagyu beef for a reasonable price!
[ EatYakiniku (BBQ)/Offal ]
Distance from the hotel:660m
Osaka which has become a synonym for "affordable and delicious".
Also here at "Chuo Ward Sennichimae" which is directly located at the Kintetsu Nippombashi Station there are many restaurants.
Did you know that there is a restaurant where you can enjoy carefully selected "Japanese Wagyu beef" for a reasonable price?
This restaurant is called "Yakiniku Densetsu Baribari"!
We introduce this restaurant which has also been covered by the media several times!
Read more
Eat this when you visit Yakiniku Densetsu Baribari!
The meat is high quality Japanese Wagyu beef purchased from an original route with an A4, almost A5 rank!
Next to the standard cuts like short rib, outside skirt, loin and tongue you can also enjoy rare cuts.

Something we definitely want you to try when you visit the restaurant is the "Japanese Wagyu beef lean meat"!
Depending on the purchase you can taste rare cuts of Wagyu lean meat like "bottom flap meat", "flank steak", "bone-less short ribs" and "neck".
Even rare cuts which are usually not available can be eaten here in a relaxed atmosphere!
Large portions and surprisingly affordable prices!
At this restaurant the affordable average price per customer is 2,000 Yen~ 3,000 Yen!
Besides the affordable standard menu, even rare cuts like "neck" and "bottom flap meat" are surprisingly cheap with 890 and 980 Yen!

Some people might think "is it cheap because the portions are small!?", but the portions per person do not differ from the portions of other restaurants!
On the contrary cuts like the "calf's tongue" are thickly cut and so satisfying that you think "is this price ok for a portion like this!?".
Also tasty! Many sorts of fresh innards!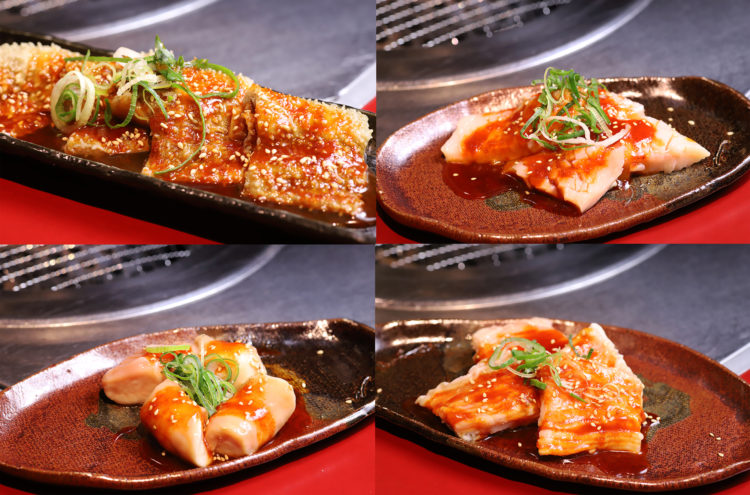 At Yakiniku Densetsu Baribari many sorts of innards are available as well!
You can enjoy the deliciousness and texture of fresh innards.
The more you chew the more you can feel the deliciousness, so much that you think you want to taste this flavor forever!
Please also try the innards together with the meat.
How to enjoy Yakiniku Densetsu Baribari♪
Surrounding yourself with co-workers, friends or family to eat Yakiniku is really fun!
But don't you have times when nobody has time and you still really want to eat Yakiniku!?
The charm of "Yakiniku Densetsu Baribari" is that at these times you can visit the restaurant by yourself without holding back.
On the first floor there are counter seats and many people enjoy Yakiniku by themselves.
Recently many foreign students visit the restaurant and the number of persons who enjoy Yakiniku by themselves has increased!
You can visit the restaurant in accordance with the occasion and your preferences so please enjoy your meal at various times!
Rewards in the middle of the night
Since Yakiniku Densetsu Baribari is open from PM 5:00 to AM 3:00 the following day you can also enjoy Yakiniku in the middle of the night.
Hearing "Yakiniku in the middle of the night" might make some people feel a slight sense of immorality but eating Yakiniku in in the middle of the night is also special!
The high quality meat will not lie heavy on your stomach and even if you eat a little too much you will be alright!!
How about enjoying Yakiniku to the full extent without worrying once in a while?
The restaurant owner wants "more customers to freely enjoy Japanese Wagyu beef" and accordingly has set surprising prices for the high quality Japanese Wagyu beef.
To enjoy affordable and delicious Yakiniku in Osaka, you should definitely visit "Yakiniku Densetsu Baribari"!
If you eat at Yakiniku Densetsu Baribari you will feel the affordability and deliciousness "characteristic to Osaka".
Close
Name of the facility

Yakiniku Densetsu Baribari
Address

1-7-2 Sennichimae, Chuo Ward, Osaka City
Phone Number
Access

"Nippombashi" Station▶ 5 minutes' walk
Open Hours

PM 5:00 - Next day AM 3:00
(Last order AM 2:00 of the following day)
Closed Days

No regular holidays
Payment fee

2,000Yen - 3,000Yen